Whether you are an entrepreneur by birth or by chance, you'll want to be on top of interactive video marketing. Video is a must-have for your digital marketing in 2015. Right now, 70 percent of marketing professionals claim that video converts better than any other social networking platform.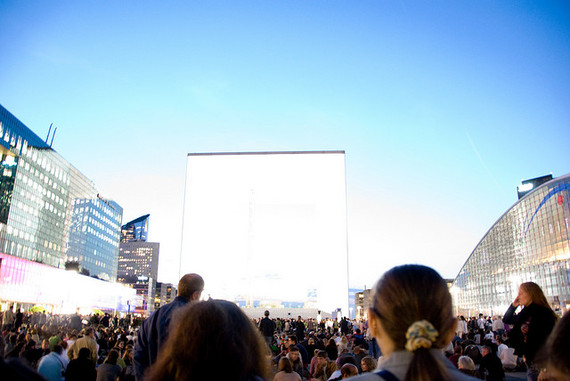 Image Credit: Creative Commons,
Damien Roué
With the combination of high travel costs and the existence of social media, why do people still get together at conferences? The main reasons for attending a major industry event is to extend relationships built from social media or to simply interact with people on a very personal level.
After all, a major industry event typically offers keynote speeches, smaller workgroups and the best interaction… happy hour. So, if these personal interactions are so important, how can interactive video be used to enhance the event? Here are some ways:
Videos Can Generate Excitement Before an Event
First of all, a conference is really not a conference if there are not enough people attending. Attendees should feel excited to go to your event, and most events require very active promotions to make sure that the attendance level is as high as is possible.
One of the best ways to build the effectiveness of marketing via email or other advertising strategies for an event is to create a video. It can be easily interactive and speedily demonstrates what the event will offer. It also provides a portal into the personal interactions that a prospective attendee can look forward to.
Videos Increases Interaction at an Event
The interactions that occur during an event are a powerful benefit. You should have events setup custom hashtags to share while the event is going on. Also, video can be a fantastic way to share real-time event information. Video interviews and other footage captured at an event should be posted on YouTube and certainly tweeted. The content isn't really edited a whole lot, but it's a way to get immediate feedback right online. Tout is very useful for sharing brief snippets of video.
BlueJeans video conferencing also facilitates interactive video communications for large-scale events, giving moderators the opportunity to include attendees as active participants from their platform or mobile device. With nearly two-thirds of Americans now owning smartphones, that technology is pretty much long overdue for the ambitious marketer who wants to be plugged in to the pulse of the event.
Video Extends the Life of an Event
As well as videos for social media use, your event can be focused on capturing better quality video content. The content recorded during the event should be used for several different purposes after the conclusion of the event or conference. Here are just a few examples of how an event can have a lasting impact after it's done:
Provide access to keynote events and speakers, says marketing blogger Diane Primo, "Usually, attendees do not miss the primary keynote address. Conferences spend quite a bit to ensure that it has an impact. By having the presentation on video, attendees and others can rerun the content online afterwards."
Archives panel discussions — Karen Hough, author of the Amazon best selling book, Be the Best Bad Presenter Ever: Break the Rules, Make Mistakes, and Win Them Over, writes, "One of the more engaging parts of a conference are the panel discussions. These discussions often feature conflicting points of view and encourage audience participation. Video, especially when there are multiple angles, can make panel discussions have a major impact online. In fact, after posting the results of a panel discussion, a conversation can continue online."
Ultimately, video is a superb way to enhance the impact of any event. Video provides you with the ability to capture the positive interactions of attendees and extend consumer conversations online.
And just as a reminder…
Often people don't have time to watch a 60-minute video, but they'd love to see some of the key points. After your video loads to YouTube, take the time to add interactive time stamps that take people straight to sections of a video.