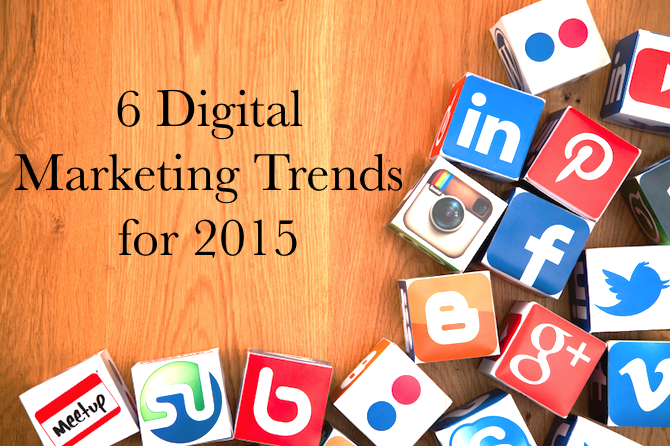 Every year brings new trends in digital marketing: the way we work together, the tools we use, and the expectations of our audiences. 2014 saw the content marketing movement continue to spread, mobile become even more dominant, and visual content grow.
So what will the leading creative agencies be doing in 2015? 
Lee Odden recently
polled top marketing minds
to gauge what will be important next year, and we reviewed all the advice, collecting the top 6 "Next Big Things" to watch out for:
Trend 1: Content distribution
93% of B2B marketers
are currently doing content marketing, and 60% of them create at least one piece of content each week. With everybody and their uncle jumping on the content train, you'll need to work even harder to stand out in a sea of articles, ebooks, videos and infographics. It's not enough just to produce content — not even if it's great content. It needs to be placed in the perfect spot with a solid distribution strategy to ensure the right eyes actually see it. Expect to see greater emphasis on effective distribution in 2015.
Trend 2: Greater collaboration
All too often, the paid advertising team doesn't know enough about what the content team is doing, and content writers are in the dark about social media campaigns. 2015 will see agencies prioritize coordination and collaboration between departments to make sure each one is supporting the other's efforts. Enterprise social collaboration solutions are predicted to have
535 million subscribers by 2018
, up from 208 million in 2013.
Trend 3: Visual storytelling
You've heard the statistics: attention spans are getting shorter, and people want to be entertained as well as educated. And with the glut of written content, visual storytelling and video content will stand out and be more engaging to potential customers — particularly on mobile. According to
Nielsen
, YouTube reaches more U.S. adults aged 18-34 than any cable network. Expect to see more brands flock to online video services such as YouTube and Vimeo. And if you don't have a video strategy in place, what are you waiting for? Get on it!
Trend 4: Humanity & humor
It's not enough to create content that's informative and helpful to customers, especially when all your competitors are doing the same thing. Even good content is just white noise if you don't find a way to connect with customers. To truly capture your audience's attention, tap into a deeper human element. Think Pantene's "
Not Sorry
," Budweiser's "
Puppy Love
" and "
Real Men of Genius
," or American Greetings' "
World's Toughest Job
" campaigns.
The proof is in the numbers: "Puppy Love" alone has 52 million views on YouTube, with "World's Toughest Job" reaching 21 million views and "Not Sorry" at nearly 15 million. Expect brands to get sillier or more sentimental, using laughter and pulling heartstrings to cut through the noise and attract more eyeballs.
Trend 5: Acting on Big Data
Big data
has been a buzzword for awhile now, but people are generally still pretty baffled by how to tame it. By its very nature it's intimidating and unwieldy, so watch for marketers in 2015 really start to focus on how to distill big data to better understand customers and inform new strategies. The adoption of advanced marketing analytics tools will also continue to spread, as Big Data is projected to grow to a
$50 billion market in 2015
.
Trend 6: Mobile domination
2014 saw the tipping point: more people now consume content on their mobile devices than on their desktop or laptop computers. In turn,
mobile advertising budgets will increase 83%
by the end of 2014 to represent almost 10% of all ad spending, becoming the third-largest advertising channel behind TV and desktops/laptops. More marketers will start working specifically with the mobile experience in mind. And watch for mobile marketing strategies like using location data or push notifications to become more popular.