Are you taking advantage of YouTube's new subscribe trailer feature?
A briefing on this new branding feature in YouTube's "One Channel"
Viewers who are yet to subscribe to your YouTube channel and visit your channel page, can now be greeted by a video telling them why they should hit the subscribe button. This is an opportunity to show these potential subscribers what you do, and why they should sign up.
This new feature is just one part of the new "One Channel' design that YouTube started rolling out in March 2013. The core benefit of this new design is that your channel will have a uniform look across devices. Other useful features include the ability to create playlists and the ability to link to associated channels straight from your channel homepage. The most exciting feature, as far as creativity goes, is definitely the trailer feature. Here's one nice example of achannel featuring it: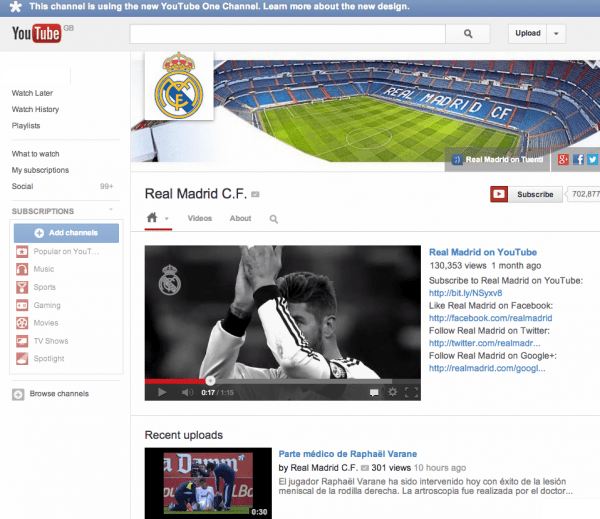 This trailer lasts 1:21. It introduces the viewer to some of the star players. It uses extremely emotive music and uses visual highlights of football matches – bringing all of the excitement of a game together.
You can find out all about One Channel here.
Other example YouTube channels already using the trailer feature
There are a few channels already on the One Channel set up who are using the trailer feature. Here are some examples to give you a taster of what others are doing with the opportunity. Click on the image to view the channel.
As these videos are only set to play for non subscribers and actually on a channel page they are not embeddable so you will need to click on the videos to go to the YouTube channels to watch:
Mystery Guitar Man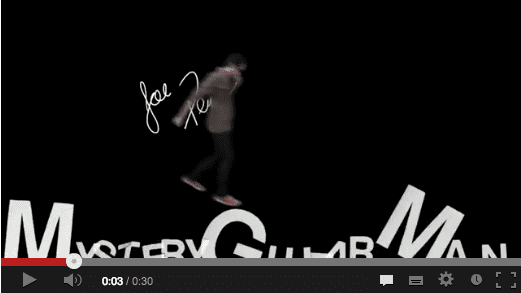 This guy makes a range of videos involving animation, stop motion, music and so on. His trailer is 30 seconds long and demonstrates some of the visual techniques he uses, as well as using voiceover narration to explain.
Indy Mogul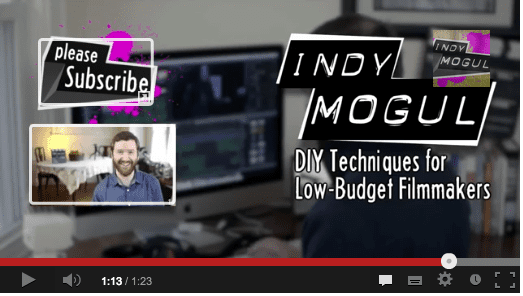 The Indy Mogul trailer is almost a minute and a half long. It is a great example of making a trailer informative on a practical level because it tells viewers exactly what they can find on the channel and when. It also makes use of the opportunity to give the visitor a call to action – it tells you what to look at next (i.e. another one of their videos).
Young Hollywood Network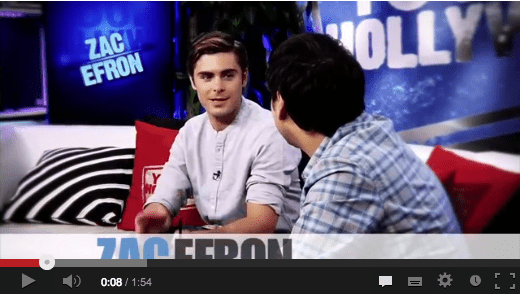 This trailer is nearly two minutes long and drops a lot of names! The video demonstrates exactly what the channel is about, what types of celebrities the channel will feature and a taster of some of the live music the channel features. The call to action is simply to subscribe.
How to make a great Youtube channel trailer
A poorly produced trailer will force viewers to click away from your page immediately. If you are going to use a trailer it is therefore essential that you make the most of it. Here are our top 5 tips for producing a trailer that is second to none.
1. Length
Keep it short. 30 seconds to a minute maximum. This is enough time to get across a lot of information but not so long that viewers will switch off. The old rule still applies; your first 10 seconds are the most important and you need to hook the audience in at that point.
2. Give a sense of who you are
Obviously there is no one way to do this as we are all unique. However, you need to be sure that your trailer portrays a good and accurate sense of who you are, what you do and what you have to offer new subscribers. Screen test your trailer with a focus group audience and get feedback. This is worth getting right.
3. Emotion
To quote Bill Woolery: 'a feature documentary has emotional moments, but a trailer is basically one emotional moment from beginning to end." Your trailer needs to engage your audience on an emotional level – this emotion needs to be congruent with what your channel is about and the response you want from your audience.
4. Answer important questions
Your audience wants an idea of what kind of videos you create in terms of theme and style. The trailer is also an opportunity to introduce the audience to important characters (if appropriate) from you channels videos. It may also be a chance to introduce the audience to your characters motivations (again, if appropriate). Finally, you need to tell your audience why they should be watching your videos and why they should be watching them now.
5. Speed/momentum
Professional movie trailers are fast paced and pick up momentum about half way through. They are exciting which is what makes them so engaging.
"Onde Quando e Como eu Quiser"
subscreve ✅ http://bit.ly/ONDEQUANDOCOMO