The TOP 10 TOOLS I Use to Grow My Business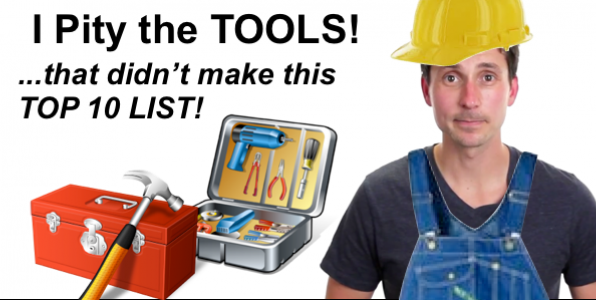 When enough people ask for it, you figure it's about time to share, right?  As I've promised many people, below is my personal list of my Favorite Tools & Software I use consistently to grow my business.  All of these tools cost me money, but all have paid off with HUGE ROI's!  I recommend and endorse all of these *if* you run a similar business to myself.
ALSO…please share with me (and other readers) YOUR favorite tools (paid and free) that you have discovered and enjoy using in your business! Just leave a short comment in the box at the bottom of the post.  But first…Lights! Camera! Take ACTION!!
Watch the Top 10 Tools VIDEO:
The LIST:  The Top 10 Tools that Made me Money in the Past 12 Months
10. Vanilla Forums
Vanilla Forums is a software platform that creates your very own FORUM for you and your community.  I found this software very refreshing. The design is clean, neat and easy to navigate.  Vanilla Forums is free, but for a small monthly fee, they will host the forum for you (recommended) and can easily be embedded and integrated with your existing website or blog theme. http://vanillaforums.com/
Beyond that, there are a ton of nifty "plugins" or addons that allow you to customize the appearance and functionality of your fancy forum, including: gamification options, one-cSocial Media Sign-On integration
9. GoToWebinar
GoToWebinar allows you to host virtual seminar (webinars) with ease.  It has a robust array of tools and functions, including built-in recording, and it rarely has any bugs or glitches!  If you are looking to teach, train or speak virtually, I highly recommend GoToWebinar to host your online presentations and meetings. To get a FREE 30 Day Trial of GoToWebinar, click here: http://CitrixOnline.evyy.net/c/31344/18127/810
8. Rhino Support
In 2012, I made the switch from ZenDesk to RhinoSupport.com.  Why?  It's cheaper and easier to navigate!  Your Customer Support is the Front Lines of your business, and it's always worth taking the time to choose the best tools to serve your customers.  Two thumbs up for Rhino Support.  To check it out yourself, click here: http://www.rhinosupport.com
7. OptimizePress
OptimizePress isn't a new, revolutionary piece of software…I purchased it in 2010, and I still use it EVERY DAY.  OptimizePress is a WordPress Theme that creates sales pages, squeeze pages-even membership templates on the fly!  I'm even more excited because the OptimizePress 2.0 is coming out shortly, and it's sure to be amazing!!  It's $97 bucks and worth EVERY penny. Learn more here: http://www.jameswedmore.com/optheme
6. Wishlist Member
Thinking of creating a membership site?  Wishlist Member is the easiest and cheapest software for making your membership site a reality.  It's a simple WordPress Plugin that integrates with your existing WordPress site to protect your content, manage members and perform dozens of other fancy features that can come in handy.  But don't take my word for it…Wishlist powers over 45,000 membership sites on the net! To learn more, click here: http://www.jameswedmore.com/wishlist
5. Basecamp
Basecamp is one of those tools that literally changed my life in 2012.  Nothing has been able to organize myself and team better than Basecamp.  It's the Internet's most popular Project Management Platform, and it is simply amazing.
First, I created a PROJECT for myself.  I use this "James" project to keep track of my own personal "To-Do's."  But when it comes to the rest of my team, I bring them all in on specific projects so my graphic designer can talk with my programmer, and my project manager in beautiful harmony.  You can start organizing your business and your life over at Basecamp.com
4. Leadplayer
I recently conducted a survey to my list asking them a simple question: what is your preferred method for consuming content on the Internet? The overwhelming majority: Combination of Video & Text.  
 If you're not using VIDEO on your blog, you're missing out on an entire medium of communicating and connecting with your readers.  With these survey results, I did two thing:  1) I made sure all of my blog posts had videos, and 2) I added a cool WordPress Plugin called 
Leadplayer
 to all my videos.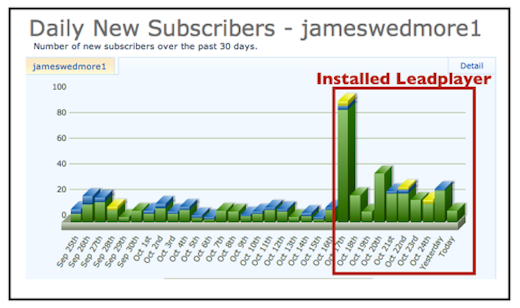 Overnight I increased my opt-in conversions by over 400%! What is Leadplayer?  Leadplayer adds a "Skin" to all of your embedded YouTube Videos so you the Video Blogger can add an Opt-In box INSIDE your videos at ANY TIME in the video.   If you're blogging, using video and want to build your email list, THIS tool is essential.
3. Contest Domination
There are a few Contest Software Platforms" out there on the Internet.  I chose 
Contest Domination
 for one simple reason:  It integrates with GoToWebinar.  If you are using Webinars in your business, you need people to register.  This powerful software drastically increases your webinar registration rates by incetivizing your audience to share your links and get others to sign up!  I doubled my registrants on my last webinar using this tool. To learn more about Contest Domination, Click Here:
ContestDomination.com
2. Easy Video Suite
I've already written a MASSIVE review on  Easy Video Suite here.  I'll quickly explain E.V.S. in a nutshell here: This Software Suite records, edits, converts and uploads your videos to a web-based platform that allows you to endlessly customize your videos, video players and their functionality.  If you sell ANYTHING with video, get Easy Video Suite now.
1. Infusionsoft
Despite all the requests I've had for my recommendations on tools and software, this #1 Tool Selection is the REAL reason I was inspired to write this post.  Back in December, I decided to make the switch from a wide array of duct-tape solutions to an All-in-One Marketing CRM: Infusionsoft.  I was very nervous and hesitant for the amount of work and effort that I would have to invest to make The Big Switch, but I am sooo glad I did!
Having everything all under one roof (email marketing, shopping cart, etc) gives you far more freedom and control.  I can insanely customize my subscriber's experience to their individual needs, and I can now gather much more accurate data on what is working (and what is not!) in my business.
Infusionsoft is NOT for everyone.  It is expensive for most people.  But if you're making money yet experiencing a growth plateau, Infusionsoft just may be the business boost you need.  For more info on in Infusionsoft, check outwww.Infusionsoft.com
Other Tools Worthy of Mention
Oh, how there were so many OTHER tools, websites and other cool things I use to save time, scale my business and automate my systems.  Tools like Popup Domination, FlixPress, a myriad of great WordPress Plugins, and other awesome sites were close runners up.  I have a longer list of almost every tool I use over on my resource page here: http://www.jameswedmore.com/james-recommends/
What's YOUR "Secret Weapon?
Take a quick moment and share with everyone else YOUR favorite tool, piece of software or killer resource.  Who knows, you may just make a difference and help someone in need!  Leave your comments beloowwwww!  Thanks!
source:
"Onde Quando e Como eu Quiser"
subscreve ✅ http://bit.ly/ONDEQUANDOCOMO