Traditional TV's demographic woes get worse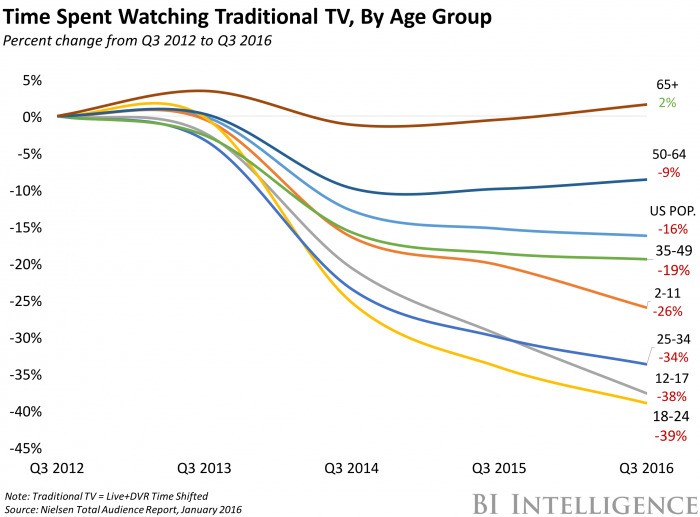 Traditional TV's demographic woes
get worse
Traditional TV viewership continues to fall among every major demographic between the ages of 2 and 49, according to Nielsen's Q3 2016 Total Audience Report.
Teenagers (12-17) are showing the largest decline, with viewership falling 11% year-over-year (YoY) in Q3 2016, as the age group increasingly transfers their media time from the TV screen to mobile devices on apps such as Snapchat and Instagram. But while time spent viewing traditional TV is decreasing, total time spent with all media reached a new high in Q3, increasing 13% YoY to just over 10.5 hours of media content per day among US adults.
As time spent with traditional TV declines, digital usage continues to thrive:
Digital consumption shows no signs of slowing. Daily time spent with digital media — including DVD and Blu-ray players, game consoles, internet-connected TVs, PCs, and app and mobile web usage on smartphones and tablets — increased 19% YoY and 28% vs. Q3 2014.
A major propellant is time spent on smartphones. Daily time spent using the internet and apps on smartphones increased a whopping 76% YoY, while passing the two-hour mark for the first time. On average, US adults now spend more time on their smartphones than listening to the radio.
Internet-connected TV devices are another driver. Both households with smart TVs and those with connected multimedia devices — such as Google Chromecast, Apple TV, and Roku — increased six percentage points from Q3 2015, to 25% and 28%, respectively. Moreover, time spent with multimedia devices jumped 60% YoY among those aged 18 or above, the second largest increase of all media types.
However, it's important to note that traditional TV still makes up 43% of total media time, according to the report, and marketers can take advantage of that through cross-platform campaigns. UK-based research firm IPA found that by utilizing both online video and traditional TV campaigns, marketers can increase their ad effectiveness by 54%. When online video is used on its own, the increase falls to 25%. Meanwhile, this early success is leading to increased cross-platform ad budgets — a third of US video ad spend is estimated to have gone to cross-platform video buys in 2016, which is a 21% increase from 2014, according to the IAB. The same study found that 62% of advertisers planned to increase their cross-platform spend in 2016 vs. 2015.
Over the last few years, there's been much talk about the "death of TV." However, television is not dying so much as it's evolving: extending beyond the traditional television screen and broadening to include programming from new sources accessed in new ways.
It's strikingly evident that more consumers are shifting their media time away from live TV, while opting for services that allow them to watch what they want, when they want. Indeed, we are seeing a migration toward original digital video such as YouTube Originals, SVOD services such as Netflix, and live streaming on social platforms.
However, not all is lost for legacy media companies. Amid this rapidly shifting TV landscape, traditional media companies are making moves across a number of different fronts — trying out new distribution channels, creating new types of programming aimed at a mobile-first audience, and partnering with innovate digital media companies. In addition, cable providers have begun offering alternatives for consumers who may no longer be willing to pay for a full TV package.
Dylan Mortensen, senior research analyst for BI Intelligence, has compiled a detailed report on the future of TV that looks at how TV viewer, subscriber, and advertising trends are shifting, and where and what audiences are watching as they turn away from traditional TV.
Here are some key points from the report:
Increased competition from digital services like Netflix and Hulu as well as new hardware to access content are shifting consumers' attention away from live TV programming.
Across the board, the numbers for live TV are bad. US adults are watching traditional TV on average 18 minutes fewer per day versus two years ago, a drop of 6%. In keeping with this, cable subscriptions are down, and TV ad revenue is stagnant.
People are consuming more media content than ever before, but how they're doing so is changing. Half of US TV households now subscribe to SVOD services, like Netflix, Amazon, and Hulu, and viewing of original digital video content is on the rise.
Legacy TV companies are recognizing these shifts and beginning to pivot their business models to keep pace with the changes. They are launching branded apps and sites to move their programming beyond the TV glass, distributing on social platforms to reach massive, young audiences, and forming partnerships with digital media brands to create new content.
The TV ad industry is also taking a cue from digital. Programmatic TV ad buying represented just 4% (or $2.5 billion) of US TV ad budgets in 2015 but is expected to grow to 17% ($10 billion) by 2019. Meanwhile, networks are also developing branded TV content, similar to publishers' push into sponsored content.
Outlines the shift in consumer viewing habits, specifically the younger generation.
Explores the rise of subscription streaming services and the importance of original digital video content.
Breaks down ways in which legacy media companies are shifting their content and advertising strategies.
And Discusses new technology that will more effectively measure audiences across screens and platforms.
"Onde Quando e Como eu Quiser"
subscreve ✅ http://bit.ly/ONDEQUANDOCOMO